DECOPATCH, DECORATIVE COLLAGE...
A little piece of history…
The story begins in 1993 in a small garage right in the heart of Lyon (in France) : an old-style wardrobe was covered in dust until the owner wanted to renovate it by glueing coloured paper. The idea was born !
A sheet of Décopatch paper incredibly fine and resistant, a little of glue, a brush and that's all you need !
A fun way to give another life to dated objects, damaged or faded. The success was immediate in France and started to get more and more famous. Décopatch was not limited to the customisation of objects but begins little by little a range of trends which are presented thanks to two annual collections.
With more of 20 years of experience, Décopatch has acquired the trust of the more important members of the hobby craft sector : Cultura, Loisirs & Création, Zôdio in France, Hobbycraft in England, Club in Belgium, El Corte Ingles in Spain… Enjoying a strong notoriety around the world, today Décopatch is set up in more than 60 different countries.
The secret ? A creativity without limit and a high-quality !
Décopatch offers a large choice of products : 600 objects in "papier mâché", 300 different papers and about 200 new products each year! An amazing choice of colours, patterns and shapes ; to suit any taste…and any budget !
Bursting with imagination, the Décopatch team follows closely the actual trends and invents the styles of tomorrow ! Born in the suburb of Lyon, the company controls the whole production process : from marketing creation to the commercialisation of the products including the manufacture of the paper. Since 2004, Décopatch has belonged to the Clairefontaine group. The expertise of this international group has allowed Décopatch to reinforce the quality of its products, all tested meticulously. It's thanks to this quality control that Décopatch is the leader of the market today.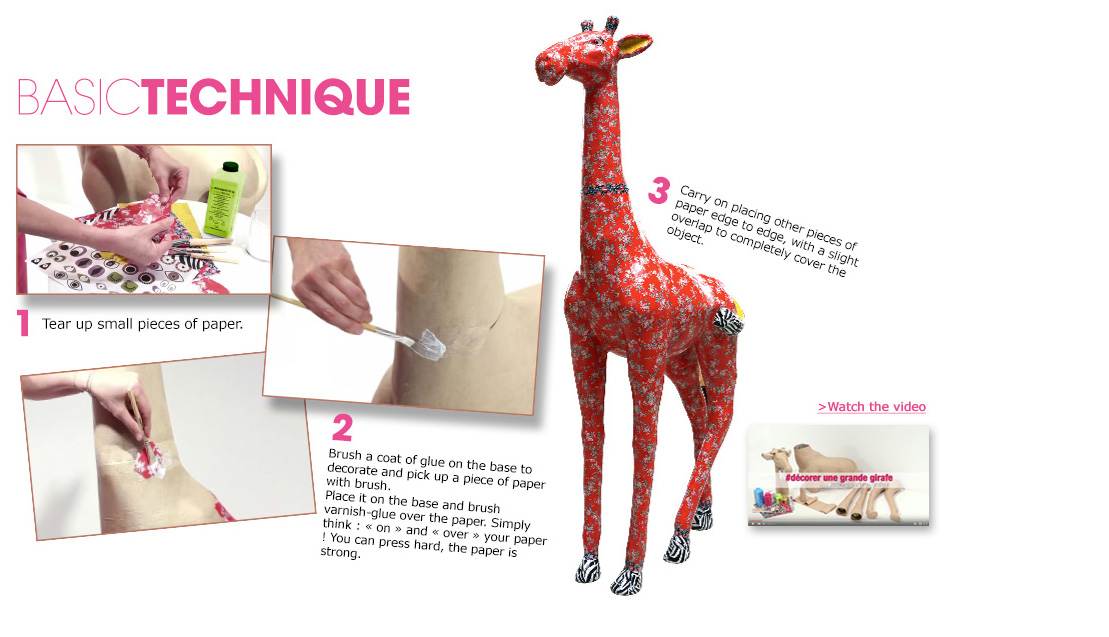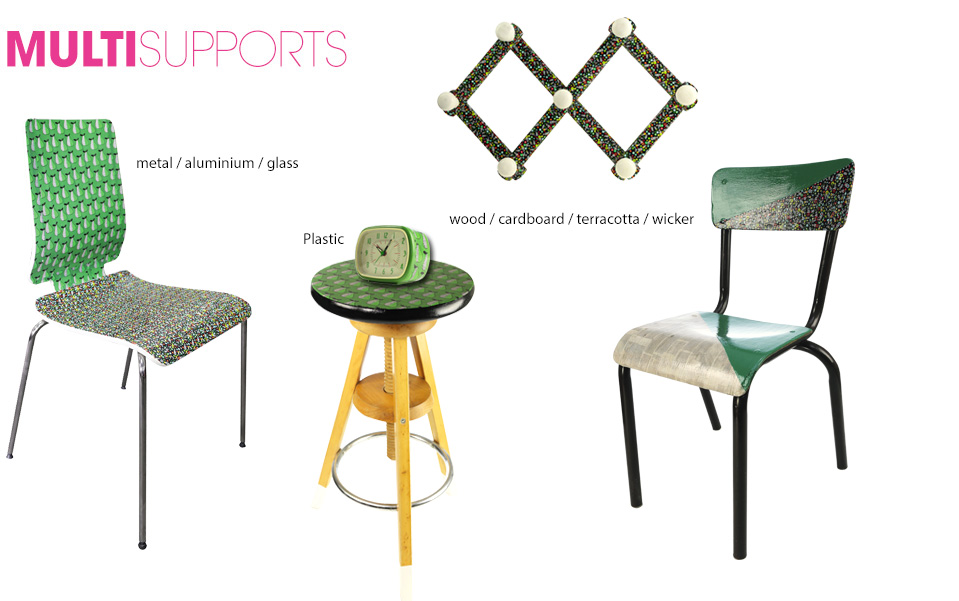 THE PAPER
The Décopatch paper is a very fine decorative paper that you can use to decorate or renovate a lot of different objects.
To apply on the surface you want, you need to tear up or cut some pieces of paper, then glue them thanks to PaperPatch / varnish glue.
We control all steps of the paper manufacture. We create some collections with a set theme.
Discover the decopatch papers collection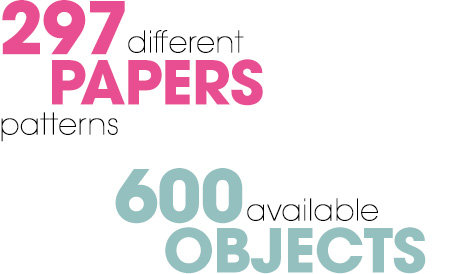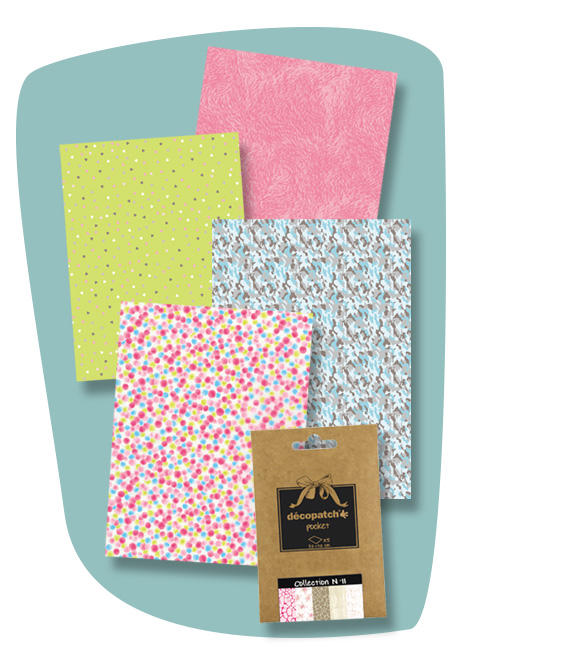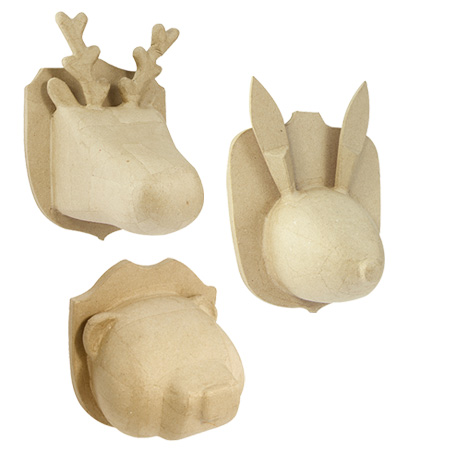 THE ITEMS
The whole range of animals and accessories in paper mache is constantly renewed to answer all your needs of creation. Fall for the letters, the boxes, the animals or the masks!
Obviously decopatch papers can be laid over all your objects: styrofoam, wood (raw, painted or varnished), metal, straw, cardboard, glass: take a look at the Dec'Home and you'll find many creative ideas!
Give a second life to your furniture with decopatch papers !
THE TOOLS
The varnish-glue - PaperPatch
The varnish-glue PaperPatch allows you to glue decopatch paper and ensures a protective layer on your object..
It was especially created for the decopatch paper: it allows gluing the paper without fading or altering it. Once dry, this varnish-glue creates a transparent film, glossy finish and is water-resistant.
Discover the PaperPatch range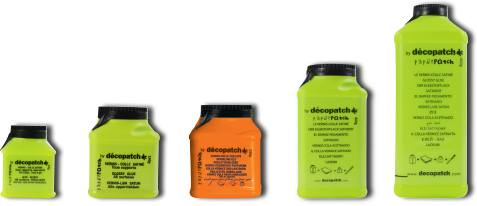 Sealing varnish – Aquapro
The sealing varnish Aquapro is highly recommended for all objects that are going to be used very often.




It enhances the protection of the PaperPatch varnish-glue.

The sealing varnish makes the objects glossier and protects them from UV, heat, moisture or detergents.

Discover the Aquapro collection

These products, neither toxic nor fragrant, are easy to clean with water. They can be safely used by children.

Porous objects, such as clay, raw wood or recycled cardboard, absorb a lot of varnish-glue. To avoid this, apply a coat of varnish-glue or sealing varnish and let dry 15 minutes before sticking the paper.

Decopatch tip : any object that is going to be used very often is to be protected by two or three coats of sealing varnish.
The brushes
Brushes with short hair, specially designed to apply Decopatch paper, two brushes are enough to do everything you want.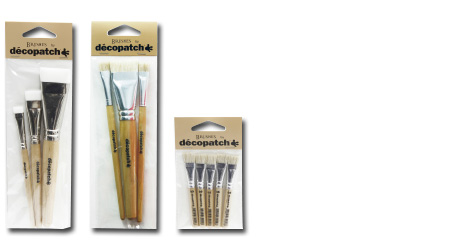 Discover the brushes range
Tresors collection
Multicoloured cabochons made of acrylic plastic, faceted or smooth, shiny or translucent, will obviously embellish creations made with decopatch papers.

Discover the Tresors collection
The Patchliner
The Patchliner is a special paint which allows you to outline shapes of patterns and also glue Tresors. Patchliner exist in 14 colours.
Patchliner exist in 14 colours.
Discover the Patchline collection